How to get to the Opal Queen
Click on the thumbnail to view full size map of the Denio, NV area.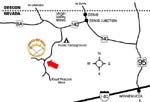 From I-80: At Winnemucca, travel North on 95 to Highway 140. Continue on 140 through Denio Junction 30 miles and turn left on Virgin Valley Mines Road. Follow this 6.5 miles to the sign for the Opal Queen turn-off.
---
&nbsp <!- Web page creation by Rocky Laber (510) 482-5591-->